Ekonomia i eksploracja, przygoda i zaciekłe walki z tym co nienazwane… Czy będziesz w stanie odkryć przerażające tajemnice Australii, by ocalić ludzkość przed nieuniknioną zagładą?
AuZtralia to gra strategiczna z mocnymi wątkami ekonomicznymi oraz przygodowo-eksploracyjnymi, przeznaczona dla od jednej do czterech osób. Akcja gry osadzona jest w alternatywnej rzeczywistości lat trzydziestych XX wieku.
Po wojnie, która przyniosła ludziom wolność od rządów Wielkich Przedwiecznych, pola i gleby półkuli północnej były doszczętnie skażone. Jednak pojawiła się nadzieja na wyżywienie ludzkości, gdy odkryto ukryty przed ludzkością kontynent - Australię - i przystąpiono do jego eksploracji i zasiedlania.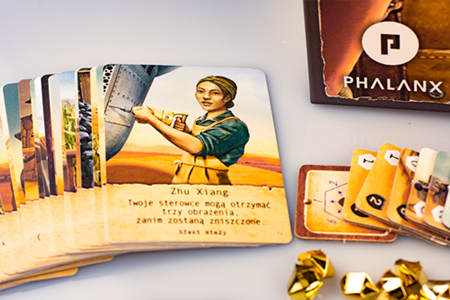 Jako pionier i odkrywca przywrócisz tę ziemię ludzkości! Zbudujesz port, linie kolejowe, zdobędziesz zasoby w kopalniach i obsiejesz pola. Wykorzystasz jednostki wojskowe, aby ruszyć w głąb kontynentu, odkryć jego tajemnice i bronić swych dóbr przed nadchodzącymi stamtąd potworami.
Dobrze zaplanuj swoje poczynania, tak aby przygotować się na przebudzenie, które nastąpi w pewnym momencie rozgrywki. Wtedy to potężni i groźni Dawni Bogowie zaczną działać, sterowani przez unikatową mechanikę gry.
Mrok przysłoni bogactwa nowej ziemi, obłęd skazi dusze poszukiwaczy przygód... Czy ludzkości uda się przetrwać? Czy Przedwieczni dokonają swojej zemsty? Gotuj się do walki!
Za co pokochasz AuZtralię?
połączenie eksploracji, ekonomii i wojny w świetnej strategii prosto od Martina Wallace'a
możliwości, możliwości i jeszcze raz... możliwości - akcji, które można wykonać w swojej turze jest ponad 10. aby w pełni je wykorzystać trzeba je umiejętnie łączyć i skutecznie zarządzać czasem ich realizacji
czas jako najważniejszy zasób, wokół którego skonstruowana została mechanika gry - każda akcja zużywa czas, a wraz z jego upływem w siłę rośnie konkurencja i przybliża się przebudzenie Przedwiecznych
obłęd, potwory, macki - wyprawa w głąb kontynentu to nie będzie zwykłe safari, na Waszej drodze staną potwory rodem z horrorów H.P. Lovecrafta. Bądź gotów na twardą walkę, gdy Przedwieczni wyruszą by zniszczyć twoje posiadłości!
przepiękna szata graficzna - misternie zilustrowana, dwustronna plansza, piękne grafiki na kartach, starannie wykonane panele graczy oraz plastikowe figurki zasobów przeniosą cię prosto w klimat alternatywnych lat trzydziestych XX w.
świetna regrywalność - AuZtralia

to dwa różne tryby rozgrywki (na dwóch stronach planszy), a także wariant kooperacyjny oraz wiele innych pomniejszych wariantów
Zawartość pudełka:
dwustronna plansza
4 plansze gracza
4 zestawy po 20 drewnianych kostek, 3 dyski, 1 port, plus 20 żetonów portów i 21 farm
20 żetonów eksploracji
35 płytek Przedwiecznych
25 jednostek wojskowych
36 unikatowych postaci
40 unikatowych kart ruchu i wyników walki Przedwiecznych
30 kart wydarzeń - 10 na każdy poziom
10 kart do trybu solo
10 kart dla trybu dla dwóch osób
50 znaczników żelaza
50 znaczników węgla
7 znaczników fosforanu
50 znaczników złota
10 fioletowych kostek
13 żetonów obłędu
15 żetonów punktów zwycięstwa
1 fioletowy dysk